The Lake Victoria Papyrus are under threat
Dunga, Kusa, Koguta, Yala Complex and Sio Port swamps are all important Bird areas. However, they lack formal protection that would allow for coherent conservation action and managemnt. Increasing pressures from the dense human populations around these swamps are compromising their ecological values.


Key threats include:

Unsustainable papyrus utilisation.
Clearance for agriculture (by cutting and burning).
Pollution from sewage and solid wastes.
Infestation of the lake by the water Hyacinth (Eichlornia crassipes) has reduced fish catches, forcing fishermen to seek other livelihoods - which often involve unsustainable use of the swamps.


An indication of Papyrus burning at Dunga Swamp
How to save Lake Vioctoria's Papyrus wetlands from disappearing


Visit the papyrus swamps and learn more about their unique birds, fish, amphibians and other wildlife.
Join Lake Victoria Sunset birders at Dunga or any local environmental groups around Yala, Sio Port, Kusa & Koguta swamps. Or join a national conservation organization such as Nature Kenya or Wildlife Clubs of Kenya.
Discourage any clearing of the Papyrus wetlands.
Start an Environmental and/or Birding club in your area or school.
Carry out basic monitoring during visits to the swamp through assessment of habitat and human activities, and share information with LVSB.
Visit LVSB's office and library at WCK western region offices in Kisumu, visit national parks, museums and bird sanctuaries, and learn more about conservation.
Tell others about papyrus wetlands, their many uses, values and the importance of protecting them.
Support our efforts by purchasing our T-Shirts which only cost Ksh. 500 (about US$ 6.25) each.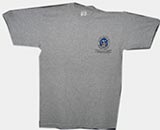 LVSB T-Shirt